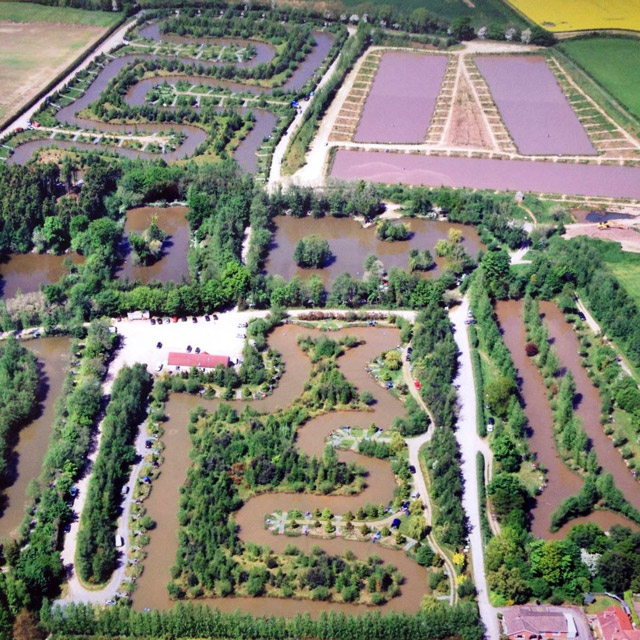 The Oaks lakes at Sessay is one of the largest coarse fisheries in North Yorkshire with 10  lakes and over 400 pegs.
The fishery opened its doors to anglers in 1994 and has steadily grown from this point, now firmly establishing itself as top destination for both match and pleasure anglers.
With a large café, tackle shop and a caravan park also on site,everyone can come and enjoy the North's most well known fishing complex.
Lakes:
Alders (41 pegs) – Opened in 1998 to cater for the ever growing match scene. The lake has a central island some 13-18 metres away and averages 5 feet deep. A well established lake holding carp to 12lb, plus a diverse range of other species including chub, roach, perch, rudd, tench, golden tench, bream, ide, gudgeon, barbel and golden orfe.
Ash, Beech & Sycamore (24 pegs, 26 pegs & 30 pegs) – Ash, Beech and Sycamore are the newest additions to the Oaks Lakes complex and for match fishing only. Each is an open water design, 40 metres wide and fished from both banks. The lakes hold thousands of common and mirror carp, plus F1s, ide and barbel.
Cedar (80 pegs) – A purpose built snake-style match lake accommodating 80 anglers. The depth of the lake averages 5ft to 6ft down the middle and, as with Maple Lake, there is a shelf towards the island of approx 12 to 18 inches deep. The lake is stocked with F1s, carp, ide, bream and barbel. A great venue for pole fishing.
Firs (25 pegs) – An established reed fringed lake surrounded by trees for maximum shelter. The lake holds carp to 15lb, tench, bream, roach, perch, barbel, ide and chub. The lake has a maximum depth of 5 feet. Floating baits can be fished on the Firs Lake. Pleasure angling only.
Maple (68 pegs) – The Maple Lake is a purpose built match lake with 68 fishable pegs, almost all fishing to a central island. The depth averages 5 feet deep. At about 11 - 12 metres, there is an underwater shelf where you will find 18in to 2ft. Primarily holds carp in the 8oz to 5lb range, plus an abundance of silverfish, tench and barbel.
Oaks (35 pegs) – Approximately 6ft deep with a large central island. The lake shelves off to the bottom of the near slope some three metres out. Holds carp to 12lb and lots of other species to keep you guessing what next bite will bring.
Poplars (65 pegs) – Opened in 1999, Poplars has a central island approximately 13 to 14 metres and was designed for pole anglers to be able to reach the central island. The island is reed fringed with small trees and bushes steadily growing. The lake averages 5 feet deep down the middle and approximately 2 feet deep across to the island. The lake holds carp to 9lb, tench, ide, barbel, roach, perch, rudd and bream.
Willows (30 pegs) – The Oaks' main specimen lake is approximately 7 feet deep with a central island. There are grass carp to 25lb, ghost carp to 26lb and commons and mirrors to 28lb. This lake was extended in 2003 and more islands were added, allowing easier fishing for pleasure anglers. The lake also holds a good head of silverfish and can accommodate 30 anglers. Pleasure angling only.
Species: Carp, barbel, chub, roach, perch, rudd, tench, golden tench, bream, ide, gudgeon and golden orfe.
Extra Information: 
The Tackle Shop is open seven days a week with a large selection of baits and tackle on offer from most major manufactures.
The Café is open seven days a week, serving hot food and drinks with a selection of chilled drinks and snacks. It has a large indoor seating area and can also accommodate large groups and coach parties.
A small peaceful, adults only, touring caravan park with hard standing pitches in a quiet corner of the fishery, all with their own electrical hook up. There is also a walk in shower and easy access to fresh drinking water point.
Separate toilet block with gents, ladies and disabled toilets, plus a screened chemical disposable point.
Day Ticket Prices:
Adults: £8
Senior Citizens: £6
Juniors under 14 (Must be accompanied by an adult): £5
Evening Tickets (from 4pm): £5
Rules: Please consult the fishery
---
PLEASE NOTE: The above information is subject to change. Please contact the fishery for the most up to date prices, opening times, rules and other information.
Game, set and match. If you're a serious angling aficionado, The Oaks Lakes Caravan Park at Sessay in North Yorkshire is just the ticket: it's adjacent to a whopping ten match and pleasure lakes making up one of the best-known coarse fisheries in the north. And it's in pole position for off-site exploring too, as it has easy access to the A1 and A19 and is central to the north's main towns and cites including York, Leeds and Harrogate.
Fish to cast off for at The Oaks Lake include carp, tench, bream, roach, rudd, gudgeon, perch, barbel, ide, crucian, carb, golden tench and golden orfe – and the park also has a specimen fishing lake with grass carp to 25lbs, ghost carp to 26lbs and common mirrors to 28lbs. Site guests can buy reduced fishing day tickets at the side of the lake on the day they're angling to get started.
The Oaks doesn't have fishing equipment for hire, but if you want to add to your kit, a fully-stocked on site tackle shop is there to cater to your needs – next door to a café serving hot and cold food.
Pitches all are hardstanding, super-sized and with electric hook-up, set in a four-acre field with easy access to the fishing lakes. A loo block with separate ladies', gents' and disabled-friendly facilities is next to the field, along with a screened chemical disposal point; the site also has a free hot shower.
Finally, as it's a peaceful park set up for fishing, The Oaks doesn't allow rowdy guests and accepts adults only.